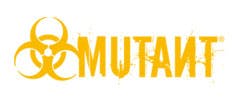 Buy 2 or more products priced over £9.99 from the Mutant range and save on each product
| | |
| --- | --- |
| Buy 2+ | save 5% |
| Buy 4+ | save 7.5% |
With Mutant Pump, not only will you boost NO production beyond all previous limits with its clinical dose of L-arginine, but Hyperox will extend the lifespan of every NO molecule flowing through your veins
Description
If you've ever tried a regular L-arginine-driven Nitric Oxide (NO) boosting product, you've no doubt experienced that 'flattening out' period and lost your pump quickly. Even with extended-release formulas, your "perpetual pump" seems to be perpetually non-existent. Well, now there's a new clinically proven ingredient available just for Mutants that forces stronger, longer, and more effective pumps than any other before it. It's called Hyperox, and this clinical strength compound can only be found in new Mutant Pump - the world's strongest muscle pump stimulator. The fact is, getting and keeping a full muscle pump relies heavily on a relatively unknown compound produced by your own body called Phosphodiesterase-5 (PDE5).
PDE5 is a destructive enzyme that acts to hinder the biochemical processes that lead to a more powerful muscle pump, and until now, nearly every ordinary L-arginine -driven NO product has failed to block its effects. That's why only Mutant has injected new Mutant Pump with both clinically-proven doses of L-arginine and the bioactive compound Hyperox, the most powerful new PDE5-blocking ingredient legally available. Hyperox is the first PDE5-blocking ingredient of its kind, and is designed to stop the destructive PDE5 enzyme dead in its tracks, keeping your muscle pumps hard, full, and long lasting.
With Mutant Pump, not only will you boost NO production beyond all previous limits with its clinical dose of L-arginine, but Hyperox will extend the lifespan of every NO molecule flowing through your veins. The result is maximum saturation of NO that will actually force your muscles to continue expanding giving you insane Mutant size and an explosive pump that will last long after your battle in the gym is over
Container Size: 154
Serving Size: 7 Caplets
Servings Per Container: 22
Amount Per Serving: Niacin: 25mg Chromium (from polynicotinate): 200mcg Folic Acid: 140mcg HyperPump N.O. Maximizer: (3,600mg) Hyperox Active Botanical Ingredients (ABIs): Trigonella Foenum-Greacum (Standardized for 30% Yamogenin Glycosides), 2-amino-5-(diaminomethylidene-amino) pentanoic acid. PlasmaPump Vascularity Enhancer: (3,085mg) Glycerol Monostearate, L-Citrulline Malate, Alpha Lipoic Acid, Niacin, Chromium (from polynicotinate), Folic Acid. Phospho pH Protector: (260mg) Dicalcium Phosphate, Dipotassium Phosphate, Ascorbic Acid, Sodium Phosphate. Other Ingredients: Microcrystalline Cellulose, Stearic Acid, Silicone Dioxide, Soybean Oil and Powder, Pharmaceutical Coating (Hydroxypropyl Methylcellulose, Talc, Medium Chain Triglycerides, Riboflavin, Titanium Dioxide, Inulin).
Specification
| | |
| --- | --- |
| Product Form | |
| Primary Ingredients | |
| Choose your Goal | |
| Time of consumption | |
| Drug Tested for Sport | |
Delivery & returns
Delivery
We offer a number of delivery options at the checkout. If you add your items to your basket and enter your postcode all delivery options, estimated delivery dates and pricing for your area will be shown.
View or full Deliveries Policy here.

Returns
We want you to be happy with every purchase you make. Accordingly, you may inspect the items you buy as if you were in one of our stores. However, whilst you are deciding whether to keep your purchases, you do have a statutory duty to take reasonable care of our goods. Therefore, please do not damage the items whilst you inspect them.

Where you have failed to take reasonable care of the goods, whether whilst in your possession or when returning them, we reserve the right to refund you in full less any amounts due by way of compensation to either repair the goods or to cover any loss.
If you wish to return a product you have purchased from our website, making note of any Non-returnable products, you may do so.