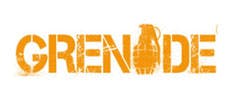 Buy 2 or more products priced over £9.99 from the Grenade range and save on each product - Excludes Carb Killa Bars
| | |
| --- | --- |
| Buy 2+ | save 5% |
| Buy 4+ | save 7.5% |
Grenade .50 Calibre is a hard hitting, pre workout detonator designed to make every workout an explosive, energy fuelled assault.
Description
Grenade .50 Calibre Preloaded (50 Servings)
Grenade .50 Calibre is a hard hitting, pre workout detonator designed to make every workout an explosive, energy fuelled assault.
Powered by Grenade, the multi award winning sports nutrition specialists, .50 Calibre combines full potency dosages of research-validated ingredients so as to deliver devastating energy levels and incredible pumps! .50 Calibre also contains patent pending MDS (Muscle Defence System) – anti-catabolic support designed to help avoid excess muscle breakdown.
Container Size: 580g
Serving Size: (11.6 g)
Servings Per Container: 50
Nutritional Information Per Serving
Energy: 25 kcal / 105 kJ, Protein: 2.75 g
Total Carbohydrates: 2.5 g, of which Sugars: 0.7 g, of which Polyols: 1.5 g, of which Dietary Fibre: 0 g, Fat: 0.3 g, of which Saturates: 0.2 g, Niacin (Nicotinic Acid): 20 mg
Amounts Per Serving (based on Killa Cola Flavour)
Niacin: 20 mg, Folic Acid: 150 mcg. 50 Calibre Power Deliver System: 5.370 mg, Creatine Monohydrate (N-Amidinosarcosine): 1,520 mg, Beta Alanine (3-aminopropanoic acid, H+ Neutralization amino acid): 1,500 mg, Citrulline Malate (2-Amino-5-(carbamoylamino) pentanoic acid): 1,500 mg, Arginine (2-Amino-5-guanidinopentanoic acid): 500 mg, Taurine (2-aminoethanesulfonic acid): 250 mg, American Ginseng (Panax Quinquefolius): 100 mg, NutriPump Formula: 860 mg, Glycerol (1,2,3-trihydroxypropane): 510 mg, Beetroot Extract (Beta Vulgaris [Nitrate Rich]): 250 mg, Glucuronolactone: 100 mg, AdrenoPump Oxygen Delivery Formula: 1.330 mg, Theobroma Cacao Seed (rich in flavanols): 800 mg, Caffeine (1,3,7-trimethylxanthine): 275 mg, Green Tea (Epigallocatechin Gallate, Epigallocatechin, Epicatechin Gallate, Epicatechin): 125 mg, L–Tyrosine (4-hydroxyphenylalanine): 80 mg, Bitter Orange Powder: 50 mg, Lactic Acid Buffer Formula: 500 mg, Potassium Bicarbonate: 300 mg, Sodium Bicarbonate: 200 mg
2-1-1 BCAA Delivery Formula: 400 mg
BCAA blend (L-Leucine, L-Valine, L-Isoleucine [2-1-1 ratio]): 400 mg
Ingredients
Maltodextrin, Natural and Artificial Flavors, Malic Acid, Silicon Dioxide, Sucralose, Organic Purple Sweet Potato Powder (color), Acesulfame Potassium, Sodium Bicarbonate, Potassium Bicarbonate
Recommended Use
Initial Single Serving Dosage:
Mix half a scoop (11.6 g) with 150 to 250 ml of cold water and stir or shake.
Consume approximately 30 minutes before training.
Specification
| | |
| --- | --- |
| Product Form | |
| Choose your Goal | |
| Time of consumption | |
| Drug Tested for Sport | |
Delivery & returns
Delivery
We offer a number of delivery options at the checkout. If you add your items to your basket and enter your postcode all delivery options, estimated delivery dates and pricing for your area will be shown.
View or full Deliveries Policy here.

Returns
We want you to be happy with every purchase you make. Accordingly, you may inspect the items you buy as if you were in one of our stores. However, whilst you are deciding whether to keep your purchases, you do have a statutory duty to take reasonable care of our goods. Therefore, please do not damage the items whilst you inspect them.

Where you have failed to take reasonable care of the goods, whether whilst in your possession or when returning them, we reserve the right to refund you in full less any amounts due by way of compensation to either repair the goods or to cover any loss.
If you wish to return a product you have purchased from our website, making note of any Non-returnable products, you may do so.
Customer

reviews
1 review for Grenade 50 Calibre 580g - 50 Servings